Attract Business with Hotel PPC Marketing

Online Travel Agencies are a blessing and a curse for hotels. They're a blessing because they give additional exposure to potential customers, but a curse due to the high commission rates. As with any business, it's a good idea to diversify your channels. If you become too reliant on a few and one isn't direct bookings, then you could become a slave to those few revenue generating channels. Many hotels find themselves in this situation with OTA's, and it becomes obvious that the hotel is not making as much money as they should be with every OTA booking.
One way to level the playing field is to combat OTA's in the arena they frequent: Search Engine Ads. Google is the most frequently used search engine in the world, and they command a large number of hotel searches per day. When a hotel establishes a relationship with an OTA, the OTA will set up ads to show for all relevant searches that relate to that hotel. Text advertisements targeted at queries relevant to the location, nearby events, and even the hotel's branded name will be shown to anyone searching for those terms. With ads positioned higher than organic results and custom messaging to promote deals, it's easy to see why OTA's love to put money into these advertisements. They dominate and "middle-man" a large portion of reservations that could have come straight to you as a direct booking. So how do we make it a fair fight?
1) Start Advertising on Google Adwords
The great Wayne Gretzky once said, "You miss 100% of the shots you don't take." How else can you stand up to the OTA's if you don't meet them where they stand? This should be the most obvious step, but a surprising number of hotels new to Adwords have a distinct fear of taking the plunge. Many hotels and ownership groups simply don't have the budget, personnel or time needed to setup a revenue generating Adwords account. At Valet Interactive, you can count on us to create an efficient Adwords account that helps your business generate more bookings and leads. Our experienced and qualified paid ad experts will make sure that every dollar you spend is met with a positive return, no matter how large or small the budget may be.
2) Bid On Your Own Hotel Name
If your hotel has an Adwords account already set up, check to see if it is targeting your own hotel's brand name. Many businesses have reservations against bidding on their own branded name. Almost all businesses with unique names will show up #1 organically. The logic leads to this thinking: If my business is ranked at the top already, why pay for an advertisement when my business is already visible? There are many arguments against this, but it's important to remember the subject of this blog post: How to get business back from the OTA's. Because OTA's (and possibly, other hotels!) are bidding on your branded hotel name, you also need to have your ad in the paid advertisement section. It's also worth noting that ads will always appear above and right beside organic results:
Notice how many ads there are on this branded term search for "The Highland Dallas TX?" You have a mix of OTA's, 1 competitor, and even a business that has nothing to do with hotels or travel (www.thegraphicsdept.com, you guys should reassess whomever is doing your ads). The #1 organic result is actually sitting in 4th place compared to the above three ads. If this hotel were not bidding on its own branded term, then it would have three other listings above its organic result, and that would be a lot of competition to go up against. But because this hotel is also bidding on its own brand name, they not only have two links that searchers can click to go directly to the branded site, but they also push competing ads down, making them less likely to be clicked.
3) Run Similar OTA Deals
Many hotels allow OTA's to run promotions. This is great for the OTA's and their conversion rates, but not so great for hotels since it equates to lower revenues along with a commission to the OTA. As long as an OTA's deal is not exclusive to them — and most aren't due to rate parity rules (best rate guaranteed) — promote that deal in your OWN ads and site! It only makes sense to give site visitors that same deal. Having the words "Sale" or "XX% Off" in your ad text will almost always generate higher click-through rates and conversions, so why let the OTA's get the best out of your hotel? Get a piece of the pie you helped bake and save some money while you're at it!
If your business is constantly relying on the performance of OTA's, it would probably be a good idea to reevaluate your hotel's use of marketing budget. On average, OTA's will take about 25% of the booking revenue. This means for every $100 made on their site, the OTA's will make $25 and you'll be left with $75 revenue. However, shifting even a handful of would-be OTA bookings can mean substantial savings.
For example: One of our clients are based in Brooklyn, and the Adwords account we've created for them has seen positive returns and seismic shifts from OTA bookings. Within the last 18 months, their Adwords account has accrued 19.5x ROI with a very limited budget! If our client had not run any Adwords campaigns during this period, it is possible that the revenue could have been split organically through their own site's booking engine, or through an OTA reservation. Here is a hypothetical breakdown of scenarios that may have transpired had they not turned on Google Adwords:
Note: The last column was calculated by comparing each scenario's Organic and OTA profit vs Adwords profit.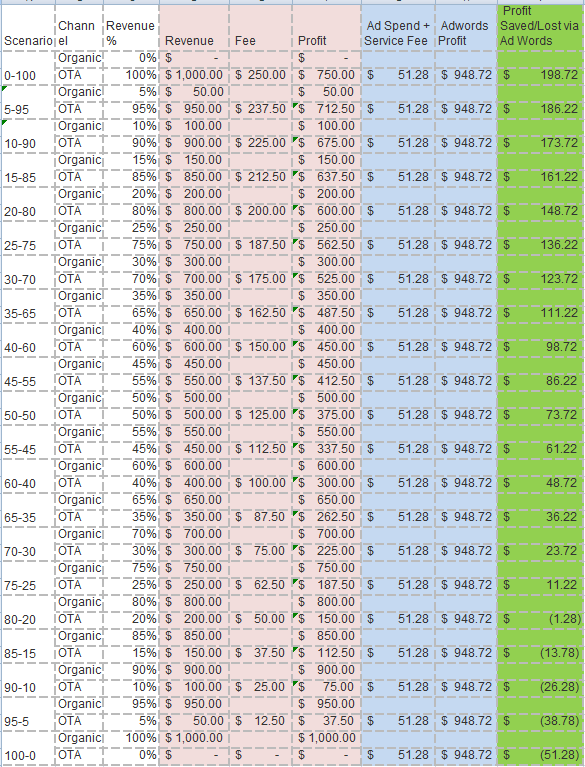 We could create a multitude of other scenarios (different OTA commission rates, efficiency, revenue), but this gives a very good idea of how much profit can be retained if OTA bookings were shifted to Adwords or another channel. In a nutshell, you can either pay a commission per revenue dollar, or you can pay a service fee per ad spend dollar (which is significantly lower).
In 16 out of the 21 scenarios, shifting reservations from both organic and OTA's to the client's Adwords saved them a lot of money even with ad spend and our 15% service fee. Of course, these scenarios only work as long as the Adwords ads convert visitors to customers efficiently and maintain a high ROI.
If you'd like for your hotel to be less dependent on OTA's, then consider advertising on Google Adwords. When done right, your business can retain much of its own revenue. Request a proposal if you'd like to receive a free quote for paid search services and all your hotel's digital marketing needs!